When the Greater Chicagoland Economic Development Partnership (GCEP) was established at the beginning of the year, Lake County joined the City of Chicago, Cook County and five other counties across metropolitan Chicago in a united effort, led by World Business Chicago, to take business attraction to the next level on the global stage.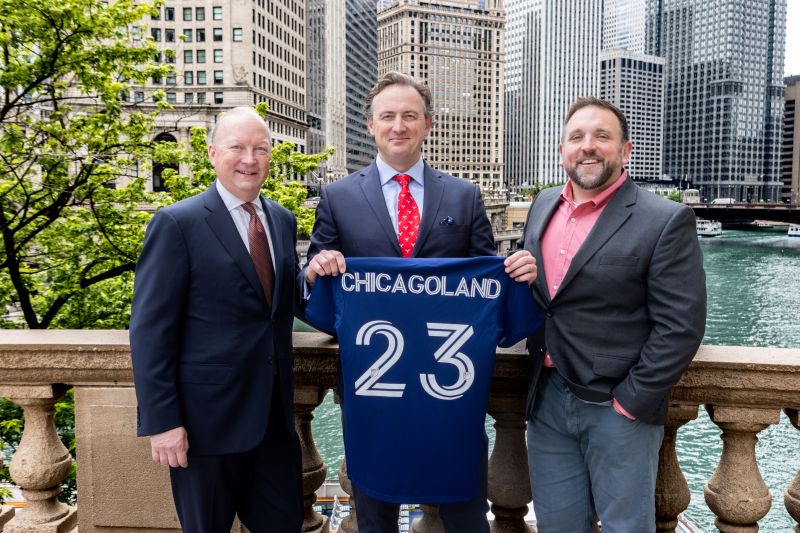 By all measures, the group effort is paying off. In leveraging the region's incredible competitive advantages—an abundant talent pool, 2nd largest concentration of Fortune 500 headquarters in the country, major growth capital investments, thriving economic sectors, renowned institutions, interconnected transportation and more—GCEP has already has a number of economic development wins under its belt.
"The GCEP asset report and map showcase the unparalleled vitality of the greater Chicagoland region," said Michael Fassnacht, President & CEO of World Business Chicago. "As the GCEP comprises the city and seven counties, this report provides a unique view of the economic strengths. For site selectors, TV and film scouts, and business leaders eyeing expansion, the report offers the insights needed to make a strong and compelling business case as to why Chicagoland. This is also a must read for residents and local businesses interested in knowing more about our diverse economy, strategic location, and commitment to equitable growth."
The new report illuminates the strategic and economic strengths that define the Chicagoland region as a nexus for business and innovation, and it has already become an essential resource for site selectors, executives, and entrepreneurs alike. It is broken down into 8 easily-accessible categories, which are underpinned by a few overarching themes:
SIZE — Chicagoland is the nation's third largest economy and is among the top 20 global economies; in fact, its economy is larger than most nations. The Chicago region offers more supply on a scale unmatched by growing or other low-cost areas. Businesses have access to a larger labor pool, customer base, and supply chain than elsewhere in the U.S.


DIVERSITY — Unlike other metro areas with strong industry dominance, like tech in the Bay Area or life sciences in Boston, Chicagoland offers the most diverse economy in the U.S. This diversity provides a cushion against economic shocks as businesses and workers can transition more readily to alternative sectors during challenging times. It also enhances the region's competitiveness on a global scale, positioning Chicagoland to capitalize on global market trends and shifts in demand.


INDUSTRY — The Chicago region is the most diverse manufacturing ecosystem in the U.S. — of the 21 manufacturing sub-sectors, Chicago is ranked among the top five of 13, and is among the top 10 of 16. This diversity not only enhances the quality of products and processes but also makes the region a hub for innovation, attracting investment and talent. Moreover, a diverse manufacturing sector is better equipped to adapt to changing market dynamics, reducing vulnerability to economic fluctuations and contributing to the region's long-term stability and prosperity.


INNOVATION — Chicagoland's tech ecosystem is characterized by a blend of established industries, startups, and research institutions that contribute to its unique identity. The diverse economy provides startups with ample opportunities for collaboration and partnerships, and prestigious universities and research institutions foster a rich environment for technology innovation.


RESILIENCE — Chicagoland is poised to weather adverse conditions — physically and economically. Chicagoland has the right combination of diversification, adaptability, environmental policy, and supportive social systems that contribute to an economy's resilience.


COST — Chicagoland has more affordable real estate and cost of living, especially compared to the coasts and similarly-sized, globally-connected metro areas. Businesses have access to a world class ecosystem, at the cost of a tertiary market.
"Lake County Partners appreciated the opportunity to team up with our GCEP partners to produce this fantastic assessment of Chicagoland's many assets," stated Bethany Williams, Lake County Partners' Director of Strategy and Intelligence. "The document reflects our collective goal to provide tailored insights, show off the region's vibrant economy, foster strategic decision-making, and nurture innovative endeavors. The same unique set of assets that originally put Chicagoland on the map endure and grow stronger with time, inviting future growth and prosperity."
Review the new GCEP Asset Report & Map here, and connect with us here so we can walk you through the many reasons why Lake County, Illinois is the right location for your next business move.