October always brings cooling temperatures, falling leaves and the promise of a very full calendar of events to celebrate Manufacturing Month in Lake County. Indeed, there is much to herald, and the excitement isn't limited to this month alone. 2022 has been filled with exciting announcements, ribbon cuttings, groundbreakings and gatherings that commemorate Lake County's strong history of manufacturing excellence.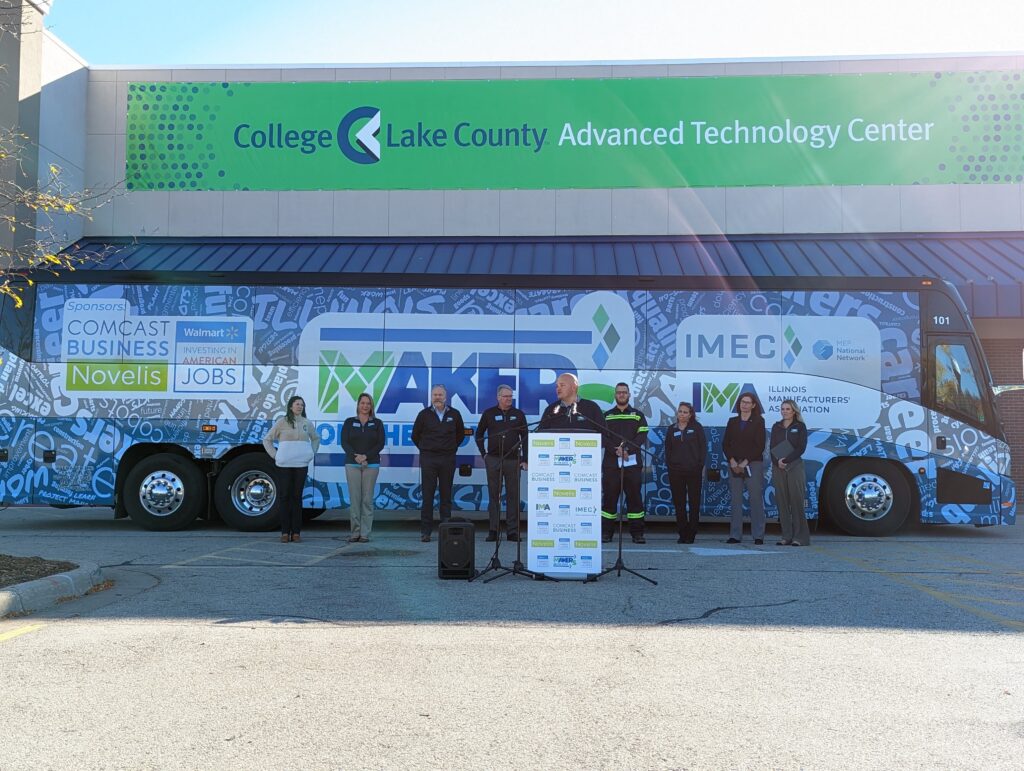 Lake County is in good company with communities across Illinois that are enjoying a surge in advanced manufacturing, prompting the Illinois Manufacturers' Association (IMA) and the Illinois Manufacturing Excellence Center (IMEC) to launch "Makers on the Move," a statewide bus tour that has visited manufacturing facilities, colleges and high schools around the state to highlight rewarding career pathways available in the industry.
Makers on the Move kicked off in Lake County, at the College of Lake County's impressive new Advanced Technology Center (ATC) in Gurnee. The 142,000 sq. ft. facility was a former big box home improvement store that underwent extensive renovations to transform into a state-of-the-art center for manufacturing education. It is now a powerful symbol of Lake County's investment in talent and commitment to forward-thinking workforce development.
MOVING MANUFACTURING FORWARD
"Manufacturing is diverse, sustainable, innovative and exciting, with artificial intelligence, robotics, 5G and virtual reality transforming the industry and our world. The 'Makers on the Move' tour is designed to shine a spotlight on the great work our manufacturers do every day, as well as the many exciting job opportunities available across Illinois," said Mark Denzler, President & CEO of the Illinois Manufacturers' Association. "There's no better time to explore a career in manufacturing, and manufacturers are ready to train and hire new workers. We're excited to celebrate our industry and inspire a new generation of leaders who will move our state and nation forward."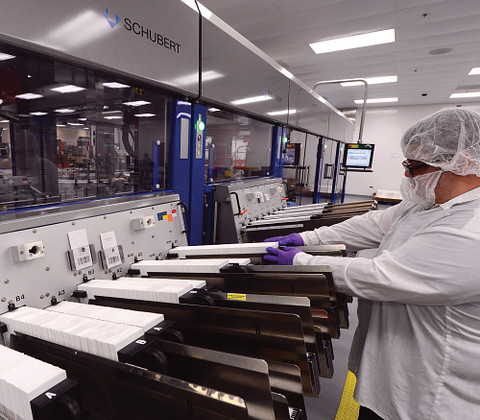 A recent IMA study found the total economic impact of manufacturing in Illinois is estimated to be between $580 billion and $611 billion every year – the largest share of any industry to the state's Gross Domestic Product. Manufacturing directly employs 662,298 workers but ultimately supports as many as 1,771,928 jobs, generating up to $150 billion in labor income for Illinois residents annually. In all, it's estimated that the manufacturing industry supports nearly 30 percent of all jobs in Illinois, making it among the state's largest industry sectors.
Manufacturing is particularly important in Lake County, which is dominated by pharmaceutical, plastic product and medical equipment production. The same study found the industry creates $48.4 billion in economic output each year in Lake County, supporting an estimated 31 percent of the county's economy. This includes 98,949 jobs, which is among the highest concentration of manufacturing jobs in the state. Manufacturers generate $12.2 billion in salaries and benefits in Lake County, with the average manufacturing employee making an annual salary of $160,968.
As part of the study, economists examined the manufacturing industry's evolution in the face of rapid technological development, with trends suggesting a shift toward a higher-skilled workforce. In the next six years, it's estimated there will be a 21 percent increase in employment growth for process control programmers and a 10 percent increase in demand for industrial engineers. These in-demand occupations likely need a post-secondary credential or some college, underscoring the importance of working closely with education institutions, policy makers and manufacturers to provide specialized training, and the need to further expand workforce training across the state to better prepare Illinois residents to enter high-demand fields. This underscored the decision to kick off the tour at the incredible new ATC.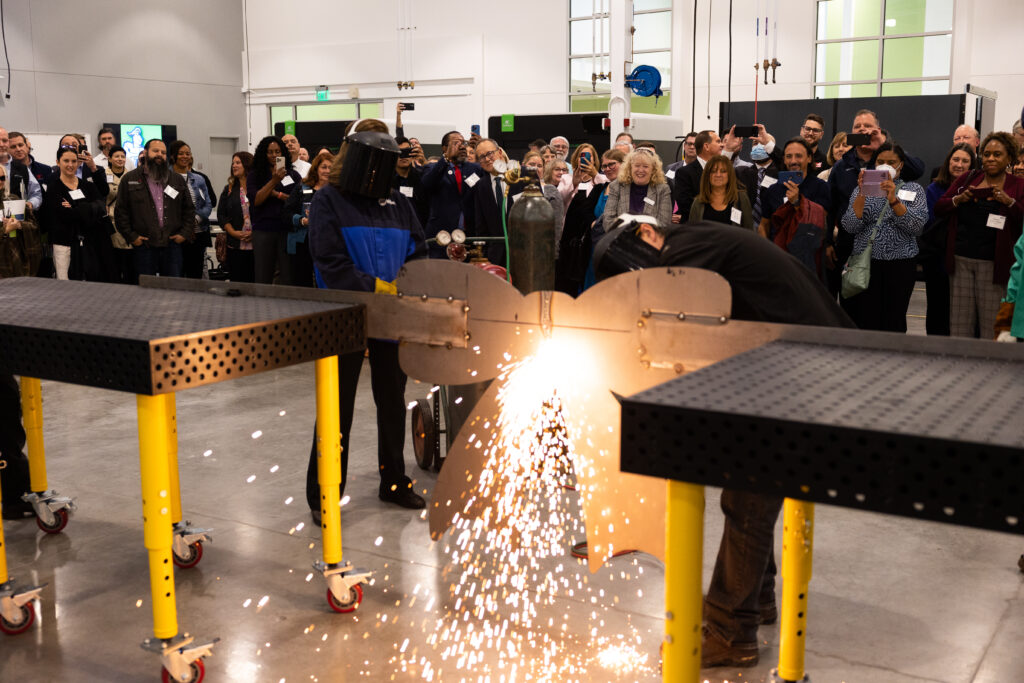 "The manufacturing workforce is a major part of our competitive advantage here in Illinois. Traveling across the state to celebrate the past, present and future of the manufacturing industry can bring awareness to the accomplishments, opportunities and needs of the industry to build a better tomorrow," said David Boulay, PhD, President of the Illinois Manufacturing Excellence Center. "Manufacturing is a stronghold of our communities that helps strengthen local economic, innovates our way of life, and brings people together. I look forward to seeing the positive impact we can make on the future of the industry while also showing recognition and appreciation for those who have dedicated their careers to manufacturing."
LOCAL INVESTMENTS IN HOMEGROWN TALENT
"We're proud to sponsor the Makers on the Move bus tour," said Blake Hunter, Plant Manager at Lake County-headquartered Novelis. "Collaborating with strategic partners like IMA and IMEC supports the development of a critical pipeline for STEM and manufacturing professionals. Thanks to years of investment and innovation, careers in manufacturing are plentiful, safe and rewarding. It is with great appreciation for our partners that Novelis invests in valuable initiatives like Makers on the Move to make a positive impact on our colleagues, customers and communities."
Understanding changing workforce needs, the College of Lake County invested in the ATC to strengthen Lake County's workforce by providing industry-relevant career pathways that focus on industrial technology, fabrication and welding.
"CLC is a dedicated partner in meeting workforce needs in Lake County," said Lori Suddick, EdD, President of the College of Lake County. "The college's investment in the ATC aligns programming with Lake County's most in-demand jobs. This project represents enormous potential to grow a diverse skilled talent pipeline that is responsive to a critical Lake County industry. The ATC will give our students new opportunities to build rewarding careers in Lake County, while also supporting our thriving manufacturing businesses in this region."
FOCUSED ON THE FUTURE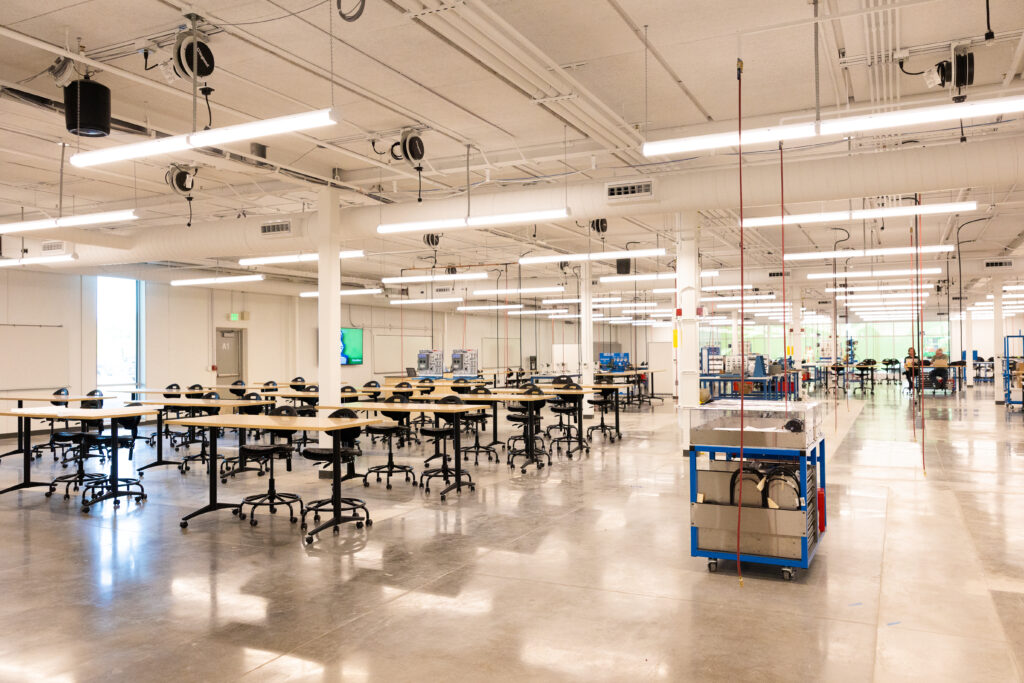 Among the successful recent workforce development efforts championed by the IMA is the creation of two new world-class manufacturing academies scheduled to open this fall, a new law that will require all high schools to offer career and technical education by 2025, the establishment of an apprenticeship tax credit for manufacturers that train employees, and a partnership with the Pritzker Administration to launch a new multi-million dollar ad campaign highlighting manufacturing jobs that will launch later this year. All of these efforts will support Illinois' unparalleled manufacturing workforce and favorable business climate.
"Manufacturers are often housed in unassuming buildings that disguise the impactful products being made inside. This tour shines a spotlight on the great work taking place in those buildings, while showcasing the variety of fun and interesting jobs available throughout our communities," said Sarah Hartwick, Vice President of Education and Workforce Policy at the Illinois Manufacturers' Association and Executive Director of the IMA Education Foundation, which works with high schools and community colleges across the state to create pathways for students to begin acquiring specific skillsets necessary for careers in the manufacturing industry. "No matter your background, there's a manufacturing job available for you."
MOVE FORWARD WITH US
Learn more about the IMA's efforts to bolster manufacturing here, and explore the cutting-edge ATC at the College of Lake County here. Connect with us here to tap into these resources and others designed to help your business grow in Lake County, Illinois.