Lake County, Illinois' exceptional quality of life is a huge attractor for businesses looking to grow, and for good reason. The area boasts of well-known companies offering rewarding career opportunities, nationally-ranked education and healthcare systems, affordable housing, short commutes, fiscal responsibility, strong stakeholder partnerships, and an interesting mix of urban downtowns and natural areas that include over 50,000 acres of protected forest preserves and open space, 550 miles of interconnected trails and bikeways, award-winning golf courses, 40 miles of beautiful Lake Michigan shoreline and over 200 lakes and rivers with unlimited boating, fishing and swimming opportunities.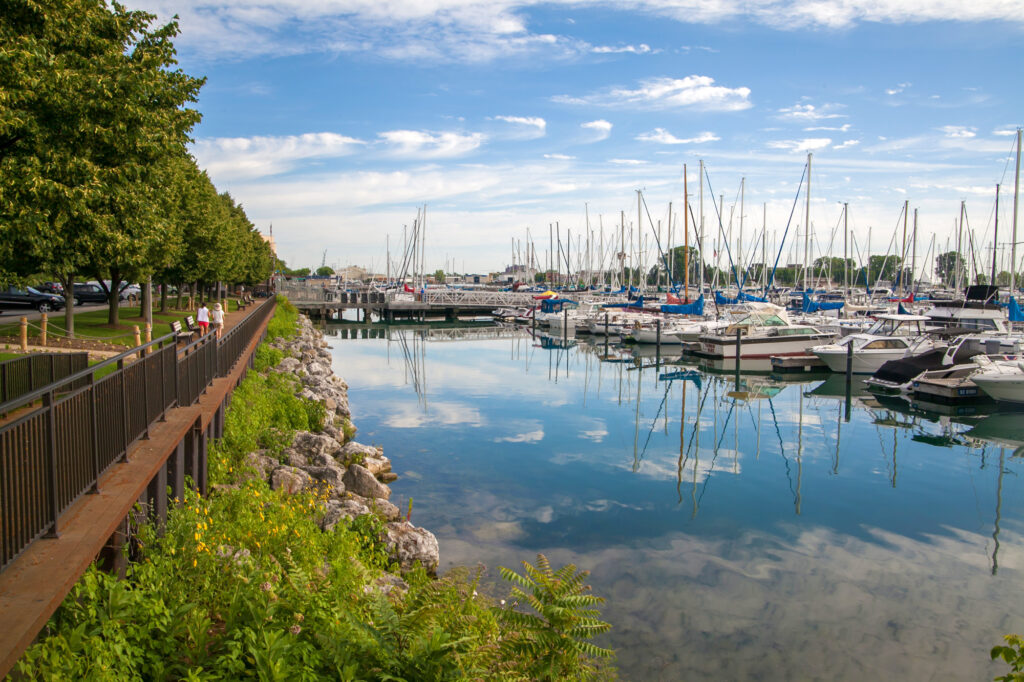 Living in Lake County means that you can climb the corporate ladder and still take time to enjoy the things that matter. With a strong balance of top-quality communities, leading employers, convenient commuter options and a wide variety of outdoor activities and entertainment venues, you can truly work and play in Lake County.
Importantly, there is also a strong commitment to maintaining Lake County's prominence as a sustainability leader. "Green" is embedded in the way that public agencies do business, developments are built, companies and residents are supported, and incentives are crafted. As a result, Lake County and the broader Illinois community has seen an uptick in LEED-certified development, resulting in the U.S. Green Building Council (USGBC) recently ranking the state #1 for LEED development in the entire country.
WHERE CAN I SEE SUSTAINABILITY IN ACTION?
A prominent example of this is at the College of Lake County (CLC) – a long-time champion and role model of sustainability – where an established Sustainability Plan guides campus development to ensure that best practices are incorporated into daily operations across all three college locations and within curriculum.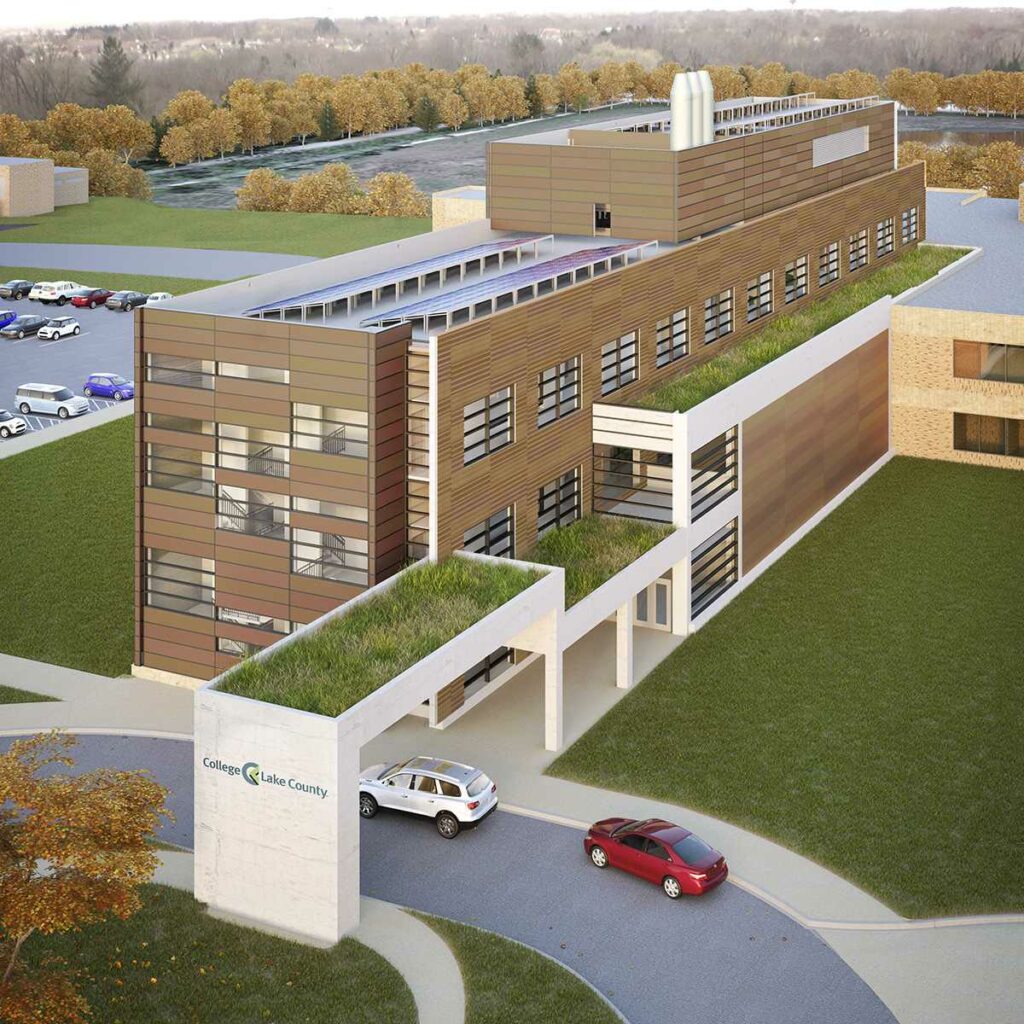 In 2019, USGBC awarded CLC's Science and Engineering Building with LEED Platinum certification—this is the highest level of accreditation achievable within the LEED rating system, and the project earned more points than any other LEED-certified new construction project in Illinois that year.
Currently, CLC is transforming an existing Lowe's in Gurnee to serve as a state-of-the-art Advanced Technology Center (ATC) that will fuel Lake County's manufacturing talent pipeline. In repurposing the space, CLC is placing special emphasis on its sustainable elements, while also exploring curriculum that can help technicians build competency around energy savings in manufacturing environments.
CLC has also made recent news for being among a select group of partners in the region to rally around major initiatives related to manufacturing and supply chain, workforce development, applied research, entrepreneurship, commercialization and infrastructure as part of the 2025 Clean Tech Economic Coalition (CTEC) – this effort is headed up by mHUB, a Chicago-based hardtech and manufacturing innovation center that has been recognized by the U.S. Economic Development Administration for its potential to accelerate the Chicago region's adoption of clean energy technologies.
CLC's sustainability goals include: minimizing energy consumption by using renewable energy resources and improving building efficiency, conserving water, including environmental and social considerations in purchases and procurement procedures, expanding alternate modes of transportation, decreasing food waste in dining areas, and creating sustainable landscapes. To celebrate all that it has achieved, CLC hosts a series of events each year to commemorate Earth Week. Click here to learn how to participate.
"At CLC, we are strategically building a talent pipeline to support the needs of local businesses. It is important that we provide our students with a state-of-the-art experience so that they leave inspired and ready to put their education and skills to work as they pursue careers in Lake County," said CLC's Sustainability Manager David Husemoller.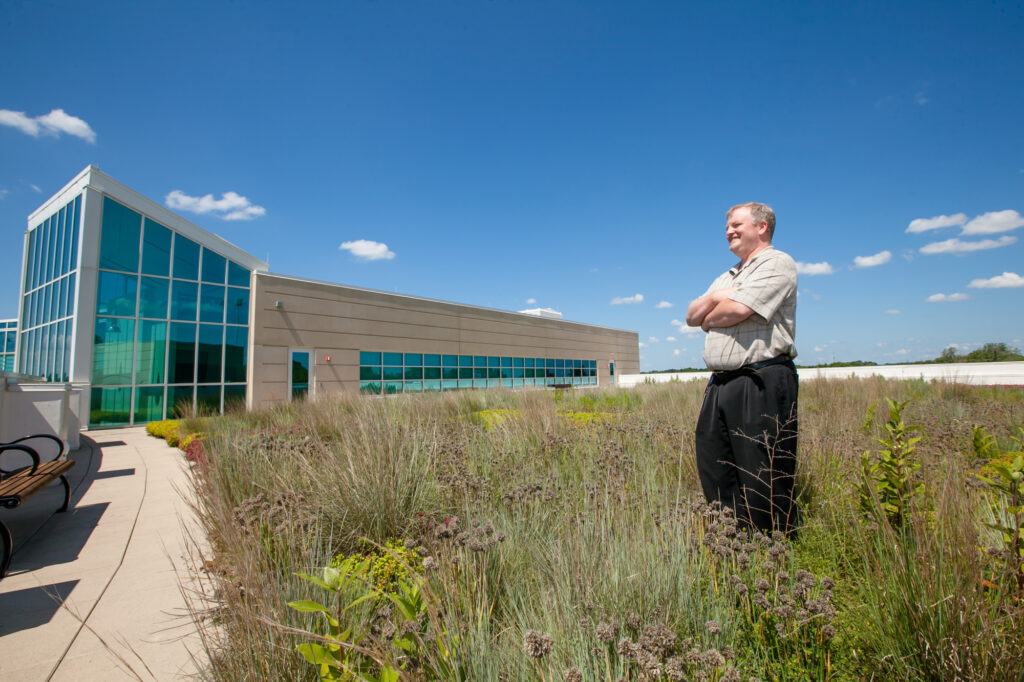 The Lake County Division of Transportation (LCDOT) is another key player in sustainability efforts. Each year, LCDOT's workplan seeks to incorporate bikeways constructed from recycled asphalt shingles, living snow fences, water quality and filtration basins and native vegetation. Click here to review the $90 Million 2022 Construction Plan. To ensure that Lake County's spaces stay special, LCDOT also coordinates an Adopt-A-Highway program to provide opportunities to care for local roadways and prevent litter.
"We take sustainability seriously in all of our projects across the county, and it pays off in more than scenic views. Our investments have helped local travelers reduce time in the car, fuel consumption, carbon dioxide emissions and traffic congestion while saving money at the pump. Ultimately, the savings add up to benefit both employers and employees," said LCDOT Director Shane Schneider.
HOW CAN MY BUSINESS BE MORE SUSTAINABLE?
This year, Lake County also teamed up with the Illinois Energy Conservation Authority (IECA) to introduce an innovative initiative – the Commercial Property Assessed Clean Energy Program (C-PACE) – that has been designed to provide fixed-rate, long-term, and non-recourse financing for commercial property owners of private buildings, making it fully transferable with the property during the term of the loan. Property owners may obtain up to 100 percent financing from private capital providers for eligible improvements such as HVAC, lighting and solar photovoltaic (PV) systems and other improvements in both existing buildings and new construction projects. One of the distinguishing features of C-PACE is that it is secured by a special assessment lien on the property and is repaid as a line item on the property tax bill.
"The business benefits of C-PACE are immense," says IECA Director of Business Development Anna Maria Kowalik. "The financing even covers soft costs necessary to design, engineer, install and finance the project. Typically, these projects can reduce operating costs, increase property values and generate net positive cash flow on improvements within the first year – especially through increased utility savings."
With its emphasis on promoting responsible economic development and enhancing affordable clean energy options, ComEd is also at the forefront of a local sustainability push. Illinois' electric rates continue to compare favorably with other states, and ComEd supports customers considering locating or expanding in Lake County instead of other states by providing a customized energy analysis comparison. Learn more in this new Fact Sheet.
"ComEd and Lake County Partners maintain a strategic partnership where we work closely to support the growth of new and existing businesses in the area – with a focus on equitable development that benefits all communities," notes ComEd External Affairs Manager Darren Boundy. "To help Lake County retain and expand investments in the area, our ComEd team works closely in partnership to help business customers take advantage of energy efficiency opportunities including incentives, facility assessments and building optimization measures. ComEd also supports customers' sustainability goals by offering solar rebates and working with them to analyze beneficial electrification opportunities for their buildings and vehicle fleets."
Click here to connect with us and see how we can help your business tap into available resources to responsibly grow your company in Lake County.