Lake County is a prime hub for regional, domestic and international markets. Its central location between Chicago and Milwaukee, along the I-94 corridor, provides convenient one-day access to a large swath of North American industry. The Port of Chicago and Waukegan Port District, coupled with Lake County's state-of-the-art facilities, reliable rail lines, and transport routes put companies at a strategic crossroads for goods distribution. In fact, Illinois is the only state crossed by all seven of the nation's class one rail lines.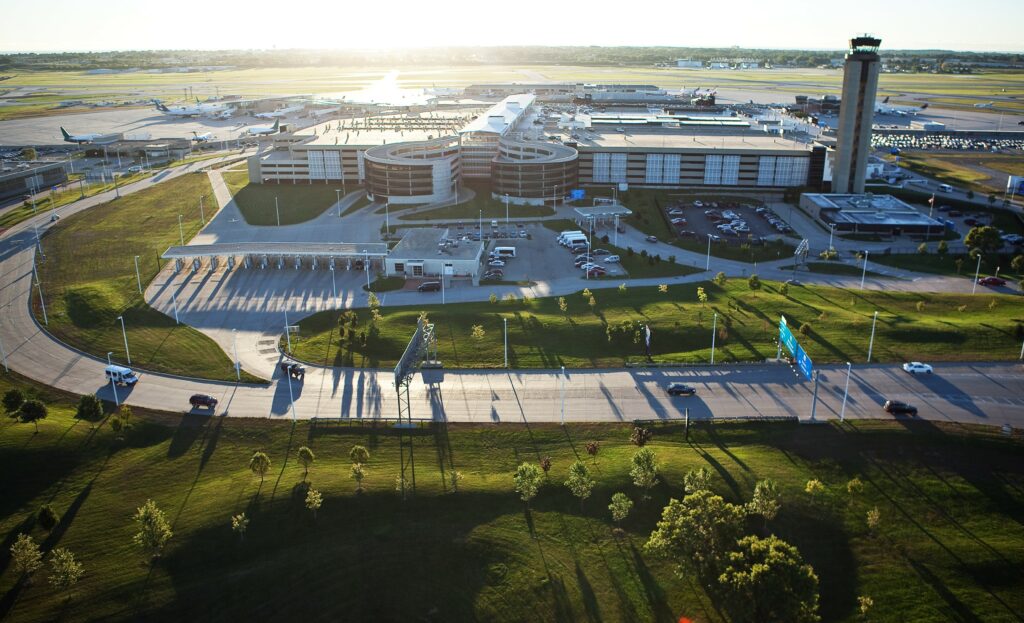 Importantly, Lake County is also just a quick trip from three major international airports—Milwaukee Mitchell International Airport, O'Hare International and Chicago Midway International—as well as Waukegan National Airport, which includes a new customs building and handles private, corporate, business, executive and governmental aircraft operating in Northeast Illinois and Southeast Wisconsin.
When it comes to attracting talent and accommodating business needs, this strong multimodal connectivity makes recruiting and commuting around the region a snap – particularly as travel returns to pre-COVID levels.
IT'S TIME TO TRAVEL
Nearby Milwaukee Mitchell International Airport (MKE) has seen this travel surge first hand, and the airport is adding on new services to meet the growing demand and continue to deliver the first-rate experience for which it's known.
MKE currently offers nonstop flights to 35+ destinations coast-to-coast, and more than 200 international destinations are available with just one connection. Through a convenient SmartPark app, travelers can reserve guaranteed parking spots and earn rewards.
As the world reopens, MKE has prioritized customer service, health, safety and convenience so that travelers taking to the sky feel comfortable to enjoy their recreational and business travel.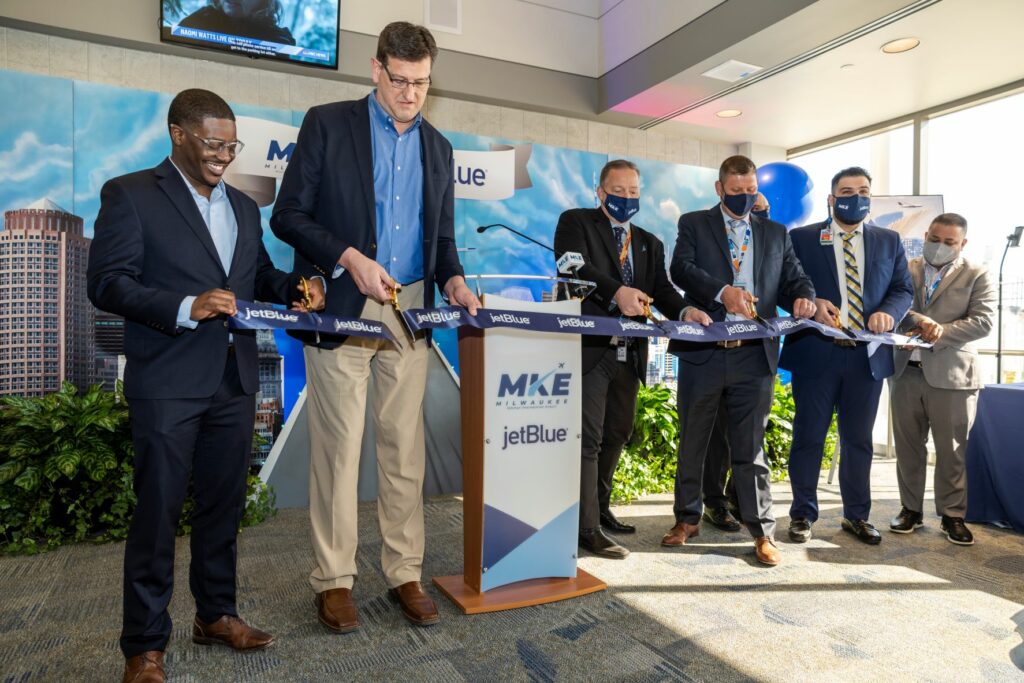 "We are proud to have recently earned our first Airports Council International (ACI) World Airport Service Quality (ASQ) Award for our success in delivering an outstanding customer experience at Milwaukee Mitchell International Airport," said Airport Director Brian Dranzik. "This recognition is especially meaningful because it places us among the world's best airports as voiced by travelers through independent surveys administered at the airport. We competed with airports across North America that have 5 – 15 million annual passengers, and we were one of only eight in the U.S. to receive the award in the Best Airport by Size and Region category. The award is the most coveted and prestigious customer experience honor any airport can receive."
Many Lake County travelers find that MKE's close proximity, service and affordable long-term parking make it an easy choice for leisure and business. Even more so, now that the airport has rolled out new and expanded services including:
JetBlue launched new daily nonstop services between MKE and New York's John F. Kennedy International Airport (JFK) and Boston's Logan International Airport (BOS), bringing a new and cost-effective airline option to the market. Enabled by JetBlue's Northeast Alliance (NEA), this Milwaukee service expands the airline's presence in the Midwest, while diversifying and advancing its New York and Boston focus city strategy.
Spirit Airlines added Myrtle Beach to its growing list of destinations served nonstop from Milwaukee. With low fares and a flight time of just over two hours, the new flights make it easy to enjoy South Carolina's beachfront boardwalks and golf courses. The airline launched its Milwaukee service in June of last year, with daily nonstop flights from MKE to Los Angeles, Las Vegas, and Orlando. By the end of 2021, Spirit was also flying nonstops from Milwaukee to Fort Lauderdale, Fort Myers, Tampa, Phoenix, and Cancun.
Air Canada also announced plans to resume daily nonstop service between Milwaukee and Toronto beginning July 1st. The route had previously been suspended since March 2020 due to COVID-19. Flying Air Canada to Toronto provides another convenient connection point for flights to Europe, Asia, South America, and beyond.
With the public's growing comfort level, MKE projects a busy back half of 2022. "Our famous 'Recombobulation Area' is ready to safely welcome back travelers and help them efficiently get on their way and enjoy all that life has to offer. We encourage you to check out our flights and book the trip that you've been waiting on." says Director Dranzik.
THE CENTER OF IT ALL
Take our interactive tour to see why Lake County, Illinois is perfectly positioned to support your growing business. Connect with us here to see how we can help your company get settled in Lake County, Illinois.